Golfing in Scotland
Every year I try to plan at least one trip somewhere in the world and go play and study great golf. I find it's a good way to go explore the many different types of golf courses that exist in the world and add to the "idea bank" for future golf projects. I also find it very useful when designing or shaping golf holes, especially when "stuck", to pull ideas from various golf holes I have seen/played elsewhere.
A few years back I toured New Zealand, then all over the United States, then Iceland and Scotland, and last year it was Ireland. This year I had yet to make any real plans, but as it may, a trip to Scotland just happened to fall on my lap. I was originally planning on going to Cabot Cliffs starting April 1st to begin building the practice facilities and help get the course ready for preview play. However, due to the abnormally cold and snowy Atlantic winter, that plan got pushed back well over a month.
Luckily for me, fellow Canadian shaper Josh McFadden had a turn-key trip to Scotland all planned and organized. His travel partner backed out last minute and he was looking for someone to fill in -- twist my rubber arm! After the initial phone call from Josh, and after seeing the line-up of courses he had on his itinerary, it took no time at all to book my flight and meet him over there.
As an added bonus, Josh had worked a season on the turf crew at St. Andrews and had many industry friends and contacts in that part of the world - one of which was Director of Greenkeeping at St. Andrews, Gordon Moir. Gordon was kind enough to open his doors and let us stay at his house for a few nights while we played The Old Course et al., and of course, a few evenings out on the town.
After a couple of days playing and acclimatizing in St. Andrews, it was off to the races as we had a serious itinerary of golf ahead of us.... St. Andrews (as many as possible) - Trump International Links - Fraserburgh - Moray Old - Nairn - Castle Stuart - Tain - Royal Dornoch - Brora - Machrihanish - Prestwick - Western Gailes - Elie
Trump International Links
First on the list, Trump International Links. The weather that day was absolutely beauty and it seemed like we had the place to ourselves. For being mid April, we sure did luck out in the weather department for the entire trip!
My initial thoughts on Trump's course was that it was situated in some of the most spectacular dunes I have ever seen. From what I have seen on my past travels, only the Inch Dunes of Ireland, Great Bear Dunes in Michigan, and the Farewell Spit Dunes in New Zealand rival the grandeur of these Trump Aberdeen dunes. My second initial thought was "how much time and money do they spend on maintaining those turfed walking paths?" As much as I enjoy walking on lush turf rather than a hard surface, I found the ultra-green walking paths a little distracting and artificial looking; especially when juxtaposed against the dry brown fescue fairways. But put that small detail aside, the golf was very enjoyable. Mr. Hawtree did an excellent job at routing the golf course through what must have been a very challenging site to navigate golf holes through. The course tours the dune system thoroughly and offers some of the most amazing views of Scottish coastline anywhere. The course was fair (perhaps a little too narrow), had a great variety of hole types, heaps of interest, and impeccable conditioning. The only drawback would be the labyrinth-like climbs to every teeing deck. It seemed like every tee deck had to be elevated up on a tall dune somehow and the walks became somewhat monotonous and predictable. But all in all, Trump International Links deserves to be in the conversation for most spectacular golf setting in Scotland.
Fraserburgh
Next stop was to a lesser known track called Fraserburgh. Established in 1777, Fraserburgh lays claim to being one of the oldest golf clubs in the world. James Braid made the most substantial improvements to the course in 1922, and other than that, it is relatively unaltered compared to other golf courses with similar historical longevity. We played a match against the Club champion and another member who were both very informative about the Club's history. They even showed us the Club's history book, loosely organized in a binder, which had tons of great historic photos and old plans.
The Club is very laid-back and unpretentious, and that's the same vibe we got playing the track too. There are some very interesting golf holes out there - especially as one gets into the back nine amongst some steeper dunes. The green complex's in particular where great fun and it's the type of course that one could play over-and-over without getting bored. The only knock I have on the track is the opening hole and home hole, both were quite pedestrian and didn't fit the character of the other 16 holes.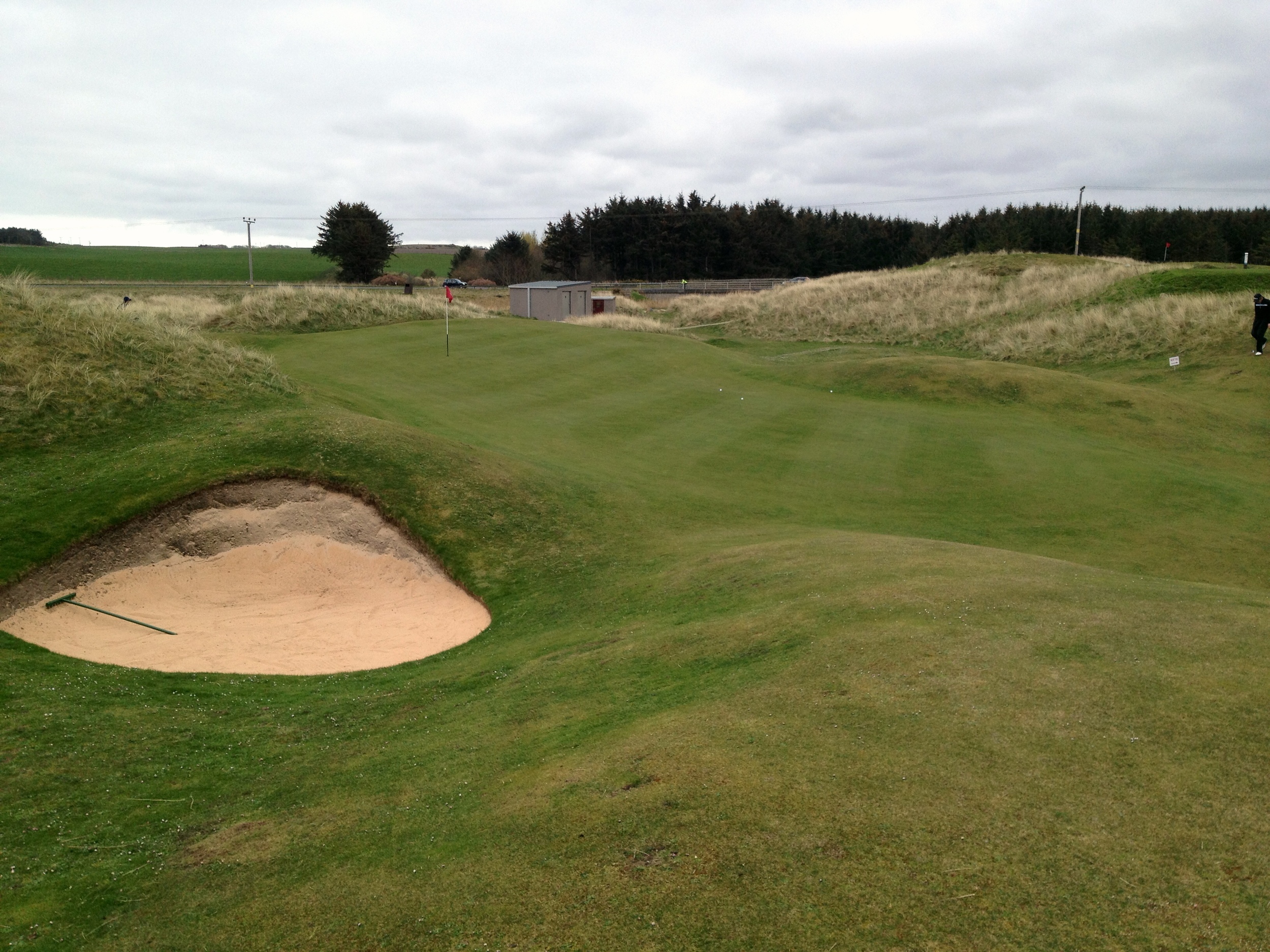 Moray Old
The next morning for the first tee time of the day, we played Moray Old - an Old Tom Morris track. This was an interesting links course lined by blooming gorse and boasting some really cool grassy hollows/grass bunkers. I am still not sure if they were built on purpose of are remnants of overgrown bunkers? In particular, I really enjoyed the undulating fairways and contouring of a relatively flat site which popped during the morning light. The routing was fun with a great blend of par 3's, 4's, and 5's. Another memorable feature about Moray Old is the RAF base located adjacent to the course. Listening to the roar of F-16 fighter jets take off and buzz by at low altitudes was pretty cool. A good test of ones concentration ability!
Nairn
That afternoon we stopped in to Nairn Golf Club for a quick match. Another blue bird day and some great playing conditions, especially for April. The greens in particular were running fast and true. Nairn was a fun, fair track located along the coast with snow capped mountain highlands and ocean always in the background. Some really interesting holes at Nairn, and two great holes in particular on the back nine that dart inland (a par 5 uphill followed by a downhill par 3). The 18th home hole, a long strategic par 5 that ends just a few meters way from the clubhouse patio also stands out.
Castle Stuart
The following day we met up with a Gil Hanse shaper Neil Cameron and played Castle Stuart. Once again, another blue bird day and minimal breeze to be had! Neil was great to golf with and provided all kinds of stories regarding the building of Castle Stuart- which he was a part of. Gil Hanse and his team did an outstanding job with the detailing on this golf course. Everything from the strategic placement of the heather to the spreading of marram grasses throughout the course added to the course's character and texture. In particular, I enjoyed how the golf course navigates the landscape and has only one true hill climb that is noticeable - between the 12th and 13th. The bunkering in particular I found was very artistic and well crafted, the conditioning was superb and the golf fun - a definite must for anyone golfing in the area.
Tain
Then it was off too Royal Dornoch, but first a stop off at Tain Golf Club and a quick match there. We had this Old Tom Morris track to ourselves which made it fun to play around on and try different shots on some interesting golf holes. The conditioning of the track wasn't as good as the other courses we played, but it definitely had some memorable golf holes. In particular, hole 9 with its two giant mounds (see slide sequence below) completely blocking the view into the putting green on the approach shot, and hole 16 with a meandering double creek crossing par 3. If one has the time and wants to play a fun round without the pressures of people in front or behind them, this is a course I would recommend trying.
Royal Dornoch
Being an admirer of Donald Ross and his portfolio of work, Royal Dornoch has been a golf course near the top of my bucket list for a long time. Then, to have first tee time in the morning, not a cloud in the sky, slight breeze and gorse in the most vibrant bloom I've ever seen was very special indeed. The course was simply awesome. The wild greens complexes are a work of art and some of the most interesting I've seen - they are certainly what defends that golf course. The fairways rolled along the seaside landscape harmoniously and the variety in golf holes and golf shots was outstanding. I used every club in the bag and almost wish I had a few different ones to choose from. Not only is the golf great, but the town is really cool too. The birth place of Donald Ross is a great pace to grab a pint and hang out with the locals after a round of golf. Royal Dornoch was everything and more than I expected.
Brora
After an awesome morning playing Dornoch, we then played Brora - which is without a doubt the most surprising golf course thus far on the trip. Brora was ten times better than I had ever imagined. It is one of the most natural feeling golf courses I have ever played. Everything from the random contouring of the landscape, to the charming character of the burns, to the grass and conditioning was completely natural feeling. This 1923 James Braid masterpiece is nothing but fun. The variety of golf holes is all over the map and one can't help feel like this course has been untouched since the pin flags where first raised. A definite play for anyone in the area.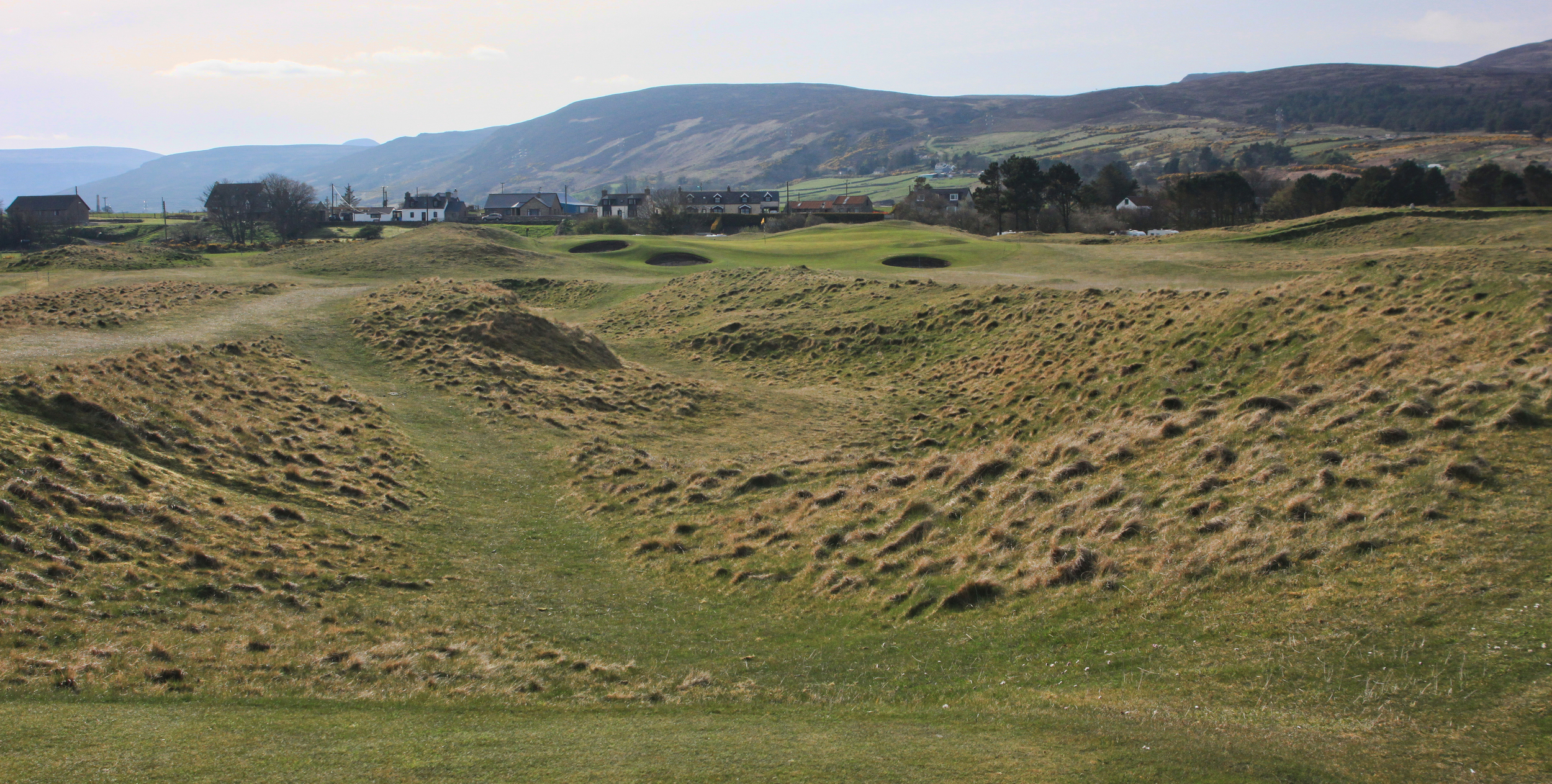 Machrihanish
After some of the most enjoyable 36 holes of golf in Dornoch, it was time for the long drive South to Machrihanish Golf Club. Unfortunately David McLay Kidd's Machrihanish Dunes happened to be closed due to some Spring drainage issues, but all that meant was it freed up more time to play Mach Old twice! The first go around was completely socked-in by fog. We could barely see our golf ball and entire experience felt like golf-by-brail. The entire time I felt like I was looking through a magnifying glass at a piece of artwork without actually seeing the context of the entire piece of art. The second go around the fog had lifted and unveiled what was an absolute masterpiece of a golf course architecture. The contours on this property were undoubtedly made for the game of golf. The variety and quirky interest of golf holes combined with the ever present wind factor made for a super fun golf match. The approach shots combined with fantastic green complexes made this course very exciting and it quickly turned into my favorite course on the trip thus far. I would go back to Machrihanish Golf Club in a heartbeat and easily play 36 holes a day for multiple days - I think it was that good!
Prestwick
As the trip draws closer to an end, we start making our way back closer to Edinburgh. We stayed in Prestwick for the night, ate some good food, and walked the famous Prestwick Golf Club. Unfortunately for us there was a tournament both days and we couldn't play. Nonetheless, walking the famous golf holes that inspired so many great golf course architects was a must. It felt like walking a museum piece - and how cool is the Alps hole!
That day we also checked out Turnberry. It was cold, rainy, and busy, so we just had a super expensive breakfast at Trump's newest acquisition and left. I'll check back once the renovations are complete.
Western Gailes
The next day we played Western Gailes. Probably the most underwhelming golf course on our itinerary, but only because of the company it shared. Western Gailes was a fun and fair track with lots of interesting golf shots to be had. I could see it being more challenging and interesting with a strong onshore wind. Nothing spectacular but certainly a solid golf course.
Elie
The final course we played was Elie, or as it is officially known - Golf House Club Elie. We met up with Gordon Moir and the head greenkeeper of the Elie club. Naturally a Canada verses Scotland match was established and off we went. Elie is a very neat golf track with some superb golf holes. The ones along the coast on the back nine stick out as some of the best on this layout. In particular the blind par 4 10th called Lundar Law, and the 13th's green complex. Team Canada ended up winning the match, and despite Gordon insisting we are sandbaggers, a few pints were enjoyed at the 19th Hole pub regardless - a great way to finish the trip!
All in all, an amazing trip was had and hats off to Josh for organizing everything. My 3 top picks for this trip are: #1 The Machrihanish Golf Club, #2 Brora, #3 Dornoch. I plan on infusing some ideas gathered from this trip into the current project I am working at - Mickelson National Golf Club in Calgary. Stay tuned on pictures from this project.
Riley